Monica Jones
Last updated: January 2023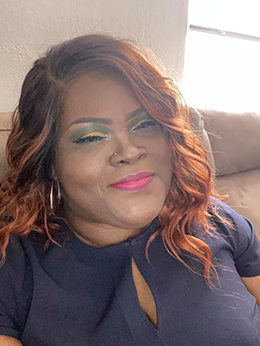 Monica was previously a health leader on Neuromyelitis-Optica.net.
Monica Jones, affectionately known as "Mo" to those close to her is an NMO warrior and a Type 2 Diabetic. Having been a diabetic for over a decade Mo was used to hitting bumps in the road, but it was the NMO diagnosis that knocked her off her feet. Like most people, Mo had never heard of NMO before and had no idea what it was. Waking up on that day in June with blurry vision in her left eye, and being blind by the end of the day has been no easy feat. After 6 months of appointments, and scans, and testing, she was finally given the NMO diagnosis 6 months later in December.
A year later Mo, who is 38, is thriving. This wife and mom of 3, with kids aged 15, 10, and 8 has managed to complete her Associate's Degree in Small Business Management & Entrepreneurship and runs 3 businesses; one of which she started after her vision loss and during a global pandemic. She still hasn't regained her vision, but she hasn't lost her momentum. Mo is ready for whatever may come her way, and she is excited to be an advocate/contributor for the NMO community and help to spread awareness.
Mo is a recent graduate of Tidewater Community College and lives in Norfolk, Virginia with her husband, their 3 kids, and 2 dogs.
Click here to read all of Mo's articles on Neuromyelitis-Optica.net.