Shekita Green
Last updated: January 2023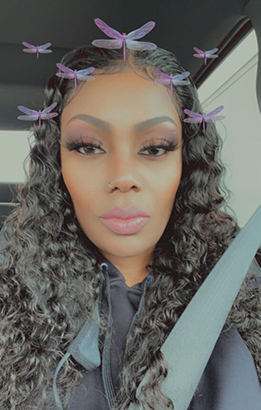 Shekita was previously a health leader on Neuromyelitis-Optica.net.
Shekita Green is the mother of 2 teenagers, the wife of an Army Vet and an entrepreneurial spirited businesswoman. In January 2013, she first began experiencing terrible nerve pain, back pain and numbness in her fingers and toes along with piercing headaches. A month later, began the nausea. After a series of hospital visits and testing, she was diagnosed 2 months later with BBPV and began her journey taking a position within the company she was working with in the staffing industry as an owner operator in WA state. There, she lived running operations however was left with the Nystagmus and symptoms of vertigo for 4 years. After relocating to Houston, TX to take over an office after hurricane Harvey, she continued to put her all into her work. "I never once thought anything about what happened to me in 2013, I was convinced it was just vertigo and that's all. I will just push through and deal with it like I do everything else."
February 12, 2020, Shekita was at work and became nauseated, with a migraine and pain in the back of her eyes. 2 days later, she was back in the ER. "The first couple of weeks I lost 15lbs, then I got Strabismus causing double vision. Shortly after, I began having a strong loss of sensation in my legs. I was going paralyzed, losing sensation in my truck area as well, and then the nerve pain. It started in my face and began traveling down my body. I lost bladder and bowel function. By this time, I was 40lbs down within a month. I had a weird vibration in my voice when I talked as well. I thought I was dying"
Shekita soon came to realize the nostalgia of this situation. This had happened before. After the final testing which included a spinal tap and an MRI, she tested positive for the Aquaporin-4 antibody. She was diagnosed with Neuromyelitis Optica.
Shekita enjoys doing makeup, cooking and spending time with her family. She uses her social media presence on Instagram, Facebook and Tiktok to advocate for people living with chronic illnesses with a focus on NMOSD. She has also built a network of individuals across the world living with NMOSD for support. Shekita plans to continue her work in the NMOSD community with the hopes to someday find a cure. "What we do today, matters tomorrow. So, it's important that we stay persistent in the journey"
Click here to read all of Shekita's articles on Neuromyelitis-Optica.net.